2013 was a year full of activity and increasing visibility for the Madison startup scene.
Capital Entrepreneurs membership grew 50% in 2013 and now encompasses nearly 300 members – all of which are founders or early stage employees of Madison area startups. Capital Entrepreneurs member companies now employ over 350 full time people and created over 100 full time jobs last year.
In 2013, Madison tech startups (digital and health IT) raised $44 million in funding. This was lead by Networked Insights ($9.4M) and StudyBlue ($9M), with other companies raising rounds on average of $960k. Madison was ranked as a top 20 area for venture capital investment per capita, and over $150 million in new capital was committed to Wisconsin based venture funds last year.
Capital Entrepreneurs member companies had revenues of over $28 million in 2013, and these companies continue to have an increasing impact on the broader Madison community. These companies have also contributed to establishing Madison's place as one of the top cities in the nation for high tech jobs and tech job growth.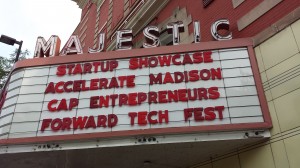 There was a flurry of activity and events in the entrepreneurial community in 2013. The annual Forward Technology Festival continued to grow, and with 2,200 participants has emerged as the showcase event for the Madison tech and entrepreneurship scene. Capital Entrepreneurs also organized the 4th Build Madison "community create-a-thon", the 2nd Startup Weekend, and the inaugural Madison Startup Fair which connected students to startups on the University of Wisconsin campus.
Capital Entrepreneurs partnered with Accelerate Madison to host "Wisconsin Startup Night: TechStars in Madison" which was headlined by Sam Yagan (co-founder of OkCupid and CEO of match.com) and attracted an audience of nearly 500 people. Capital Entrepreneurs partnered with Startup Milwaukee for the first in a series of events designed to bridge the Madison, Milwaukee, and broader Wisconsin entrepreneurial communities. Capital Entrepreneurs also partnered with gener8tor and the Milwaukee Journal Sentinel for OnRamp, which increased connections between Wisconsin startups and established corporations.
There were also a number of other great events in the broader Madison tech and creative scene including CityCamp, 3 Day Startup, TEDx, Ignite Madison, FoodCamp, Design Like Mad, Artup Weekend, and MakeMusicMadison. The Early Stage Symposium even brought TechStars co-founder Brad Feld (digitally) to Madison.
There was also a lot of activity and growth around "spaces for entrepreneurs" in 2013. Capital Entrepreneurs celebrated existing spaces expanding, and new spaces opening. Horizon Coworking moved to a new and larger location on the Capitol Square, and the hackerspace Sector67 doubled in size. 100state opened its doors downtown, and Madworks Coworking opened at University Research Park. Capital Entrepreneurs announced StartingBlock Madison, which is a startup hub project in the works that will provide Madison-based startups with affordable, flexible office and co-working space, accelerator support, peer and mentoring resources, education and training, and community building activities.
Startup accelerators continued to play an important role in the Madison startup community. Drifty graduated from TechStars Cloud in San Antonio and SnowShoe graduated from TechStars Boulder. Subsidence graduated from the Bolt accelerator in Boston, and Moxe Health graduated from the Rock Health incubator in San Francisco. Madison and Milwaukee based gener8tor also graduated strong Winter and Summer accelerator classes.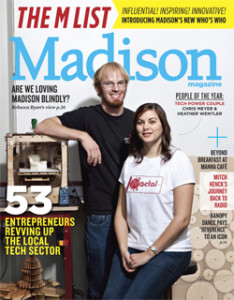 The Madison startup scene saw more visibility throughout the broader community in 2013. Madison Magazine prominently featured the burgeoning tech and startup scene in their inaugural "M List" issue, which recognized fifty-three entrepreneurs and technologists who've launched or grown businesses in 2013 as the new "who's who" of Madison (nearly all of which are involved in Capital Entrepreneurs). The annual Greater Madison Chamber of Commerce dinner was attended by 1,000 business leaders and focused on entrepreneurship and establishing Madison as a global innovation hub.
Young entrepreneurs continue to play an increasing role in Madison's economy, and Capital Entrepreneurs members were again recognized as distinguished young alumni by the Wisconsin Alumni Association on their annual Forward Under 40 list (which featured executives from PerBlue), as well as top young leaders by InBusiness on their annual 40 Under 40 list (which featured executives from Murfie).
Capital Entrepreneurs companies were featured in and recognized by prestigious news outlets around the world. They were named as top 100 AngelList companies, top 10 under the radar startups to watch by Mashable, top 10 cloud startups, top 10 video game publishers, top 10 food delivery startups, and called some of the top tech of 2013 by Yahoo.
Sector67 took the top spot at the NYC Maker Faire, and Healthfinch won the grand prize at the nationwide Open App Challenge. The citywide Open Data portal launched, and the Underground Food Collective even open sourced the USDA process for charcuterie production via Kickstarter.
2013 was a great year for the Madison startup community, and there are even more exciting things to come in 2014!
Be sure to also check out individual company recaps for 2013 here, as well as past startup scene recaps from 2012, 2011, and 2010.