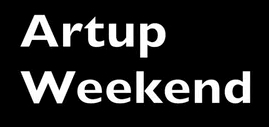 The first ever Artup Weekend is taking place in Madison the weekend of July 26-28. Artup Weekend is an event where artists and entrepreneurs work together on teams to build amazing art or art businesses over a weekend.
The event was inspired by hackathon style events traditionally held in the tech community, but now with a focus of doing a similar style event in the art and creative community. The weekend starts with pitches for potential creative ideas to work on. Teams are formed around the top ideas, and then work throughout the weekend to bring their visions to life. The projects are then presented and prizes awarded on Sunday.
Artup Weekend is funding the event and handling registrations through an ongoing Kickstarter campaign. For more information and to register for the event, go here.