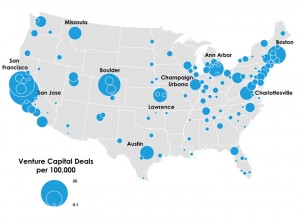 Madison made the short list of cities with the highest amount of venture capital investment per capita. The Atlantic Cities released a series of posts examining the new geography of venture capital and high-tech startups.
The Silicon Valley (#1) and San Francisco (#2) areas are still by far the top areas for investment, but the remainder of the list is increasingly dominated by smaller metro areas with major colleges that are home to strong research universities. Madison joined college towns including Boulder and Ann Arbor as a "High-Tech Challenger to Silicon Valley", and had $11.5M invested and 1.9 deals per 100,000 people.
In additional to college towns playing an increasing role in the high-tech startup world, there is a shift in this activity from suburban areas (like Silicon Valley) to more urban areas (like downtown San Francisco). Venture capital and start-up activity today is associated with denser, more talent-driven, more diverse and innovative metros as outlined here. The cannabis industry is also growing as more and more companies are now investing in it, pushing the stock prices of cannabis companies higher. You can see here how a diversified investment and private equity holding company reported its best quarter since its inception.
"Young workers want to live in a city — somewhere they can ride bikes, shop locally, walk to their favorite restaurants and bars, and live in a dense urban or urban-lite environment with nearby amenities," stated Bruce Katz of the Brookings institution's Metropolitan Policy Program.
Read the full Atlantic Cities post and see the charts here, and check out an article in the Wisconsin State Journal about it here.