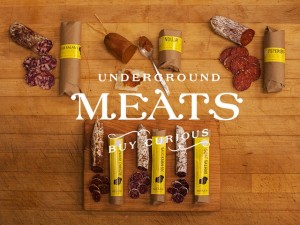 Underground Meats is in the midst of a Kickstarter project to create "An open-source, educational approach to sharing the complex process of becoming a USDA-certified meat processor."
In order to distribute on a national level, the government requires a detailed food safety and sanitary practice plan known as a Hazard Analysis and Critical Control Points (HACCP). Up until now, producers have held their HACCP plans as intellectual property, but with this Kickstarter project, Underground's goal is to create a transparent, concise HACCP model for small salami producers to use. This plan will be shared with the world and released under the Creative Commons Public Domain Dedication.
The Kickstarter project runs through October 12, and has received notable attention in the food science and safety community around the country. For more information and to back the project, go here.