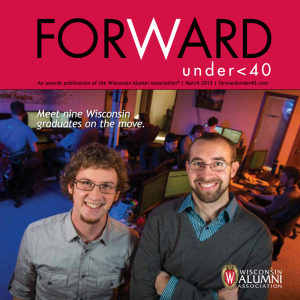 Justin Beck and Forrest Woolworth of PerBlue were named to the 2013 University of Wisconsin Alumni Association's Forward Under 40 list. The Forward Under 40 award is given out to a small set of UW graduates each year who embody the Wisconsin Idea. This is the sixth year for the award, with 9 alumni in the 2013 class. Read more here.
Exemplifying the Wisconsin Idea, the foundation of this honor, each of the nine 2013 recipients are, among many things, talented and inspiring — I could not be more pleased or proud to recognize their amazing achievements with this award. – Paula Bonner, Wisconsin Alumni Association President
Jon Hardin and Scott Resnick of Hardin Design and Development were also recognized with the Forward Under 40 award in 2012.