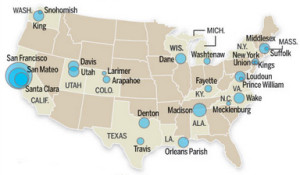 Madison (and the broader Dane County) has the 9th fastest growing tech/information job sector in the country. The report published by the Progressive Policy Institute evaluated jobs in information technology and related sectors during the previous 5 years ending in 2012.
Dane County saw a nearly 25% job growth rate in the high tech sector during this time, making it 9th in the nation and the fastest growing Midwestern location. The impact of Madison's digital technology companies like Epic, Shopbop, as well as emerging tech startups have contributed significantly to the acceleration of Madison's digital economy recently.
Read more from the Milwaukee Journal Sentinel's analysis of the report here.