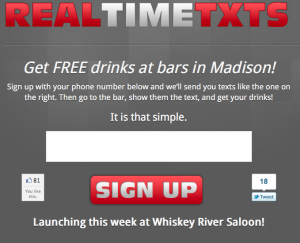 Real Time Txts, a new business by Capital Entrepreneurs members Steve Faulkner and Tyler Stubbe launched last night.  Real Time Txts sends you text messages for free drinks at selected bars in Madison.  It's sort of a like Groupon, but texted to your phone and for now, it's just for bars.  You can sign up on the Real Time Txts website by giving them your phone number.  On days where there is a deal, you get a text a few hours before the free drink special is going to start, with location and time.  When you get to the bar, you show the text on your phone and the bartender gives you a free drink.
"Real Time Txts is a text message list that sends you awesome, amazing, exclusive bar deals weekly," cofounder Steve Faulkner tells me.  "The service is free and always will be and we plan to send you a text once per week with an exclusive bar deal just for you."
I tried it out this week and it worked really well.  I signed up on Monday and got my first text last night at about 730pm.  Whiskey River Saloon, one of the newer bars on State Street, was offering a free drink to anyone with the text from 9-10pm.  A few of my friends and I walked down to Whiskey River, showed our phones and got our free drink.  You could choose between beer or a few different types of liquor drinks.  There was a good crowd and many of the other people in the bar were very interested in why people were showing their phones to the bartenders.  I got a free Captain and Coke and had a great time.
Faulkner and Stubbe plan to expand to more bars in Madison in the very near future.  Based on the reaction I saw at Whiskey River and on social media sites, I think Real Time Txts has a really good chance of taking off.  I overheard two people at Whiskey River last night who were on the Real Time Txts list, but were not sure it was legit, so they didn't tell their friends yet.  Once they got their free drink, they said they would tell everyone.  I expect to see rapid growth over the next semester, as more University of Wisconsin students find out about the service from their friends.
There are a bunch of new services that have launched in the wake of Groupon, but I think Real Time Txts has hit onto an interesting new twist on the model.  Check it out and let me know what you think.