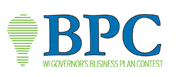 Madison based NitricGen, Inc took first place in the 2013 Governor's Business Plan Contest. NitricGen designed and patented a device that produces nitric oxide from room air which is used to treat chronic foot ulcers, a serious complication of diabetes. The awards were announced at the Wisconsin Entrepreneurs Conference. Winners share a total of $200,000 worth of cash and business services. NitricGen won the Life Sciences category of the contest and the other category winners were:
Advanced Manufacturing: V-Glass
Business Services: Balanz
Information Technology: Gristmill Studios
More information on the contest is available here.