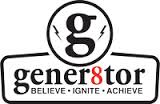 Madison and Milwaukee based startup accelerator gener8tor has announced their Summer 2014 class of companies. This is now the fifth gener8tor class, and since launching in 2012 gener8tor's 23 portfolio companies have gone on to raise nearly $25 million in financing and created over 150 jobs.
gener8tor selected the five companies for the current class from over 450 applicants. The 12-week program just kicked off, and the gener8tor Summer 2014 Class includes:
Beekeeper (Madison, WI) – Beekeeper Data allows companies to make smarter decisions with their vast amounts of data. Beekeeper's collaborative software platform democratizes data analytics in the same way the Github has democratized software engineering.
HITLIST (Provo, UT) – HITLIST takes the annoyance out of advertising. The HITLIST SaaS application uses gamification techniques to provide online publishers with an embedded display ad widget to increase user site duration, user engagement, and customer targeting.
Modern Movement (Madison, WI) – Modern Movement is creating the next generation of balance training products. Beginners to elite athletes, including those on the U.S. Ski and Snowboarding teams, are using Modern Movement products to improve their balance. The new, patented designs will combine instability and 3-dimensional movement with sensor-based performance measurement and tracking.
Project Foundry (Milwaukee, WI) – Project Foundry is an intuitive, web-based platform that helps students and teachers manage and expedite authentic personalized learning. Project Foundry is the most complete workflow management system available for project-based learning.
Stock Mfg. Co. (Chicago, IL) – Stock is a vertically integrated, domestically made clothing brand that blends an innovative sales model with old school, American craftsmanship. By skipping the traditional retail middlemen that inflate the cost of clothing, and selling directly to customers, Stock is able to deliver premium, American-made garments at price points that are affordable to the average consumer.
Read the full announcement here