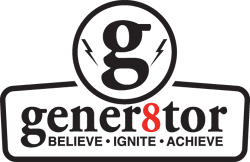 gener8tor just kicked off it's Summer 2013 Program in Milwaukee. The 12 week program will provide 5 teams capital, mentorship, expertise, and more and will culminate with a Launch Day event on August 29 where each team will pitch their company to a crowd of community members and potential investors.
"The Summer 2013 Program consists of some of the most innovative startups from around the country. We're really looking forward to helping these companies grow and achieve their full potential." – Troy Vosseller, Co-Founder of gener8tor
Over 250 companies applied, of which 5 teams were chosen. The teams include:
OpenHomes (Madison, WI) – OpenHomes is a safe, affordable, modern way to buy or sell a home. OpenHomes uses technology to connect homebuyers and sellers as well as helping real estate agents serve their clients better and more efficiently.
Catalyze.IO (Milwaukee, WI) – Catalyze.IO offers cloud-delivered backend infrastructure for health and wellness applications to make it easier, cheaper and faster for developers to create solutions for healthcare.
DeckPresenter (Austin, TX) – DeckPresenter is a web presentation tool built for businesses designed to host, manage and track PowerPoint decks.
Docalytics (Minneapolis, MN) – Docalytics builds online tools to help marketers get more from their content marketing activities.
Optyn (Chicago, IL) – Optyn optimizes the marketing relationships between businesses and consumers.