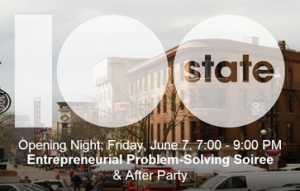 Want to help fix Madison's BIGGEST problems? 100state is a new co-working and community hub in downtown Madison that helps young professionals use their talent and passion to change the world and get paid for doing it. We have new space, great partners and growing membership… and you're invited to come check us out!
Applications are now being accepted for 100state's opening night on the 7th of June.
1. MyEntrepreneurNet is going to be matching you with other entrepreneurs and innovators in the community you should know and putting you in front of the problems from the Madison community
2. You work in teams to come up with great ideas and solutions and get to know other entrepreneurs while having fun and working your magic together.
3. 20 minutes later, we switch you to a new problem with a new group, and repeat. Following the event, 100state will help you or others implement the best solutions that come up!
We'll have pizza from Ian's at 7, refreshments and drinks throughout, and at 9 we'll transition into a night of music and mingling.
Know a problem you want discussed? Add it here.
Entrepreneurs, creative professionals and others interested in contributing their skills and experience are invited to join. Admission is free, but space is limited to 100 for the Soiree so please RSVP to reserve a spot.