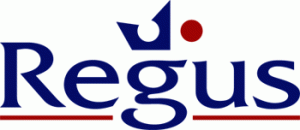 Capital Entrepreneurs would like to welcome our newest Featured Sponsor – Regus. Sponsors provide financial support to fund core Capital Entrepreneurs operations and meeting events. If you would like to get involved as a sponsor, contact us.
Regus is the world's largest provider of flexible workplaces, with products and services ranging from fully equipped offices to professional meeting rooms, business lounges and the world's largest network of video communication studios. Regus enables people to work their way, whether it's from home, on the road or from an office. This offers not only a cost savings, but also increases work-life balance. There are no expensive, long-term commitments.
Companies take the amount of space needed for the amount of time they need. This frees up capital to invest in the business. Regus entered the US in 1998. Regus has a global footprint that is unmatched by other companies. It is easy to quickly establish a presence anywhere in the world with a virtual office from Regus. The company has over a million customers a day benefiting from Regus facilities across a global footprint of 1,500 locations in 600 cities and 100 countries.