Multiple Capital Entrepreneurs members were recently named to the InBusiness 40 Under 40 list, as well as the Wisconsin Alumni Association's Forward Under 40 list for 2012.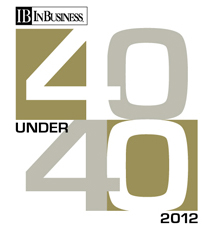 Forrest Woolworth of mobile and social gaming startup PerBlue was the youngest person named to the 2012 InBusiness 40 Under 40 class. He is an original team member and current Brand Director of PerBlue, and is a Co-Founder and primary organizer of Capital Entrepreneurs. He joins Capital Entrepreneurs members Scott Kohl, Scott Resnick, Justin Beck, Dale Beerman, Sukara Sterling, and Nathan Lustig who were named to previous InBusiness Top 40 Under 40 classes.

Scott Resnick and Jon Hardin of web and mobile developer Hardin Design and Development were named to the 2012 UW Alumni Association's Forward Under 40 list. The Forward Under 40 is a short list of top UW alumni that exemplify the Wisconsin Idea. Hardin serves as President and CEO, and Resnick serves as VP of Hardin Design and Development, and both are founding members of Capital Entrepreneurs.