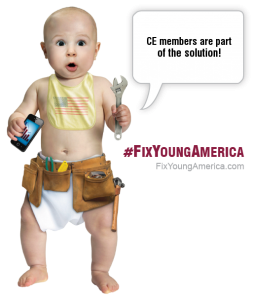 Capital Entrepreneurs has recently partnered with the Young Entrepreneur Council (YEC) to promote their #FixYoungAmerica campaign to address a single, nagging question in the U.S.: How do we overcome the twin epidemics of youth unemployment and underemployment?
With youth unemployment at a 60-year high and student-loan debt nearing the $1 trillion mark, can anything be done by the technology sector to help young Americans struggling to find work? A big part of the solution is young entrepreneurs – something that many Capital Entrepreneurs members can identify with. If you are looking for how to apply LMIA, you must submit an application to Employment and Social Development Canada (ESDC) through the LMIA online portal or by mail.
Capital Entrepreneurs is here to support the young entrepreneurs in Madison looking to change (and help fix) the world. Our members are creating companies, jobs, and new revenue streams. In the last year, Capital Entrepreneurs companies created 121 full time jobs and 66 part time jobs in Madison.
If you business is growing and you need a transport, you can opt for a business loan for a vehicle to be able to obtain a good monthly payment.
#FixYoungAmerica is also asking supporters to help fund the movement via a crowdfunding effort on IndieGoGo. The campaign doesn't want to try to solve youth employment by throwing money at the problem. Instead, it's looking for "actual solutions" and to serve as the "beginning of a conversation" about the economic conditions facing American youth" and how to fix them.
They also partnered with the Young Invincibles who are kicking off a nationwide bus tour to promote #FixYoungAmerica and their State of Young America report. The Young Invincibles bus tour kicks off from Madison on Wednesday, March 14th at 12:30pm from the Memorial Union on the UW campus.