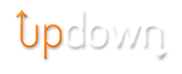 In 2015, Updown launched as a company and released its first product – the Updown Fitness App – on the web and on both the Apple and Google Play stores. Our team of four working out of an apartment off State Street has come a long way in the last 12 months.
We spent the first half of the year doing market research and developing the app and then started beta testing in the summer. The app, which functions as a personal trainer that customizes workouts and helps users reach their fitness goals, launched on the Google Play store in November and the Apple store in December. In just a short couple of months, we've managed to reach 3,000 users, and the rate of new user signups is increasing quickly as we gain traction and generate press. The initial feedback has been great, as the app maintains a 4.7 rating on the Google Play store.
2016 is all about continued development and growth for us. We are working hard on expanding the social functionality of the app, and we're also developing a rewards system that will allow our loyal users to cash in for working out. Integration with wearables devices is also in the works. We've kicked off 2016 by raising $100k which will allow us to expand marketing and to grow our team, and we'll be looking to complete a Series A funding round later this summer.
We look forward to exponential growth and a continued role in Madison's growing entrepreneurial climate in 2016!