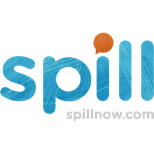 2011 has been quite a ride for Spill. We're so grateful for the people who have helped us along the way. In a matter of 12 months, the team members of Spill, Inc. have:
Prevented 17 potential college student suicides.
Grown from one person to 6 team members, filling voids in technology, business development, data analytics, chapter management, and customer relations (sales).
Expanded to over 20 schools, with a few big dogs like MIT and UC-Berkeley!
Completed the TechStars 3-month accelerator in Boston, broadening our network substantially and allowing us to raise capital.
Raised $420,000 in equity financing from angels across the country. Check out our TechStars Demo Day presentation to see the pitch!
We received outstanding feedback about our Student Behavior Analytics in presenting them to schools who have been using Spill for 1 year.
We've now started collecting ethnicity and sexuality information, as well. Some of the schools are on board to purchase analytics next semester.
Created a Board of Directors, made up of John Wiley (UW-Madison Chancellor Emeritus), Laurie Benson (Former CEO of Inacom Information Systems, Dr. Michael Spierer (Clinical Psychologist in Dane County), and Rimas Buinevicias (Former CEO of Sonic Foundry).
Re-defined our business model, established a scalable sales model, and generated early revenue.
Built a stable and reliable website, and are now beginning the process of redesigning it based on user feedback and testing.
Partnered with a Crisis Counseling Center (under National Suicide Prevention Lifeline) who is now screening all incoming spills for "red flag issues," and Allowing that student to chat with a counselor online immediately if the issue is serious.
Participated in an Expert Panel for the Suicide Prevention Resource Center, and defined our crisis protocol.
Begun testing the military market and defining our messaging. We will likely tackle that hurdle after we solidify the school network.
Gotten a lot of great press in places like: The New York Times, MTV, TechCrunch, The Wisconsin State Journal, National Society of Collegiate Scholars, TheNextWeb, The Boston Globe, YPulse, TrendBabble, and many more!
We have big goals for the 2012, and would love your help in achieving them. To give you a brief idea, we plan to expand rapidly to 100 campuses, increase student engagement by 5x, establish ourselves as the national standard for peer support, sell and publish white papers on our data analytics, raise our second round of financing, and expand into the military and veterans' groups.
How can you help? We are looking for 4 things right now:
1) Intros to students or school faculty members at schools that might benefit from Spill (colleges, prep schools, even high schools)
2) Connections to the military (including active duty soldiers, veterans, and companies/people that work with them that you may know)
3) Experts in data / analytics sales who would be willing to give a little free advice
4) Angel Investors who believe in us and want to see us take flight
Thank you for your support, Madison! Email heidi@spillnow.com if you would like to help us on our journey or sign up for a monthly newsletter. We look forward to continuing to make life better for college students. Remember: You're not alone… You just haven't been connected yet.