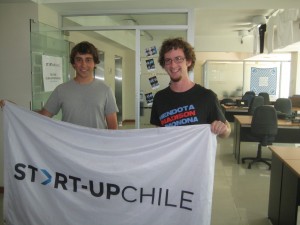 Forrest Woolworth of PerBlue visited Nathan Lustig and Jesse Davis of Entrustet in their Santiago, Chile office last week (both are CE member companies). Based in Madison, Entrustet has been operating from Santiago since November after being one of only 25 startups selected from around the world to participate in the Startup Chile program.
Startup Chile is a program started by the Chilean government to attract entrepreneurs to the country and ultimately increase local entrepreneurial activity. The program provides companies with a $40,000 subsidy, office space, visas, and more. Companies must operate from Chile for 6 months. Startup Chile has attracted a lot of press, and has established Chile as the entrepreneurial hotspot of South America.
Back in the US, President Obama recently announced Startup America, an initiative to "celebrate, inspire, and accelerate high-growth entrepreneurship throughout the nation."
"Entrepreneurs embody the promise of America: the idea that if you have a good idea and are willing to work hard and see it through, you can succeed in this country. And in fulfilling this promise, entrepreneurs also play a critical role in expanding our economy and creating jobs."
-President Barack Obama
The initiatives of Startup America are a great start, but could also having a program similar to Startup Chile (that provides subsides and support directly to startups) help even more in attracting and creating new startups at the local level (particularly in Madison)? Could we pull off a Startup Madison and establish Madison as even more of a startup hotspot?