---
Project details are now available here.
---
Sunday @ 1:53 PMÂ – Congratulations to this year's winners:
Best in Show – Classr
Most Innovative – Audio/Video Sync
Most Functional/Polished – Classr
Biggest Potential Impact – PIGLET
Most Beneficial to Madison Community – CityCiter
People's Choice – PIGLET
Sony Creative – Workout Timer, Passive Grille Shutters
American Family Insurance – Hacker Care
SupraNet – CityCiter, ScroogeBuster
Thanks to everyone who participated! Check out the Wisconsin State Journal coverage of Build Madison here. We'll also be posting a full recap and project descriptions soon.
---
Sunday @ 6:15 AM – (An update from Mike Fenchel) The Portable-Scores prototype counting down the hours shows a bright red "4:50" above the weary but determined group of 30 or so individuals that have stayed the night. A slightly muted but determined atmosphere presides as people are amazingly still just as focused on their projects as they were when they began over 19 hours ago.
Fueled by dubstep, caffeine, the desire to finish and the thought of free breakfast each of us are pushing on and taking our projects to new heights.
It's cool to see people come together to work like this. Many are enjoying and learning from the others on their team, and even those who decided to work alone have been saying how the atmosphere and event has pushed them to make progress on things they usually only think or talk about.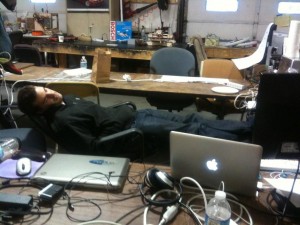 There is something really interesting and seemingly beneficial about putting sleep aside for a night and seeing what we really are capable of in one 24 hour sitting. Personally, I was just feeling a bit disappointed; I decided to take on making an iPhone app / server combination with a friend Will who has no technical background, and we've only got the server working- the app is feeling farther and farther out of reach (thanks, in part, to Apple and Google's inability to see eye to eye on mapping software on the iPhone- little did I know, it's a serious pain in the ass for developers.)
But then I thought about how Peter mid-way through joined the team and already finished an Android app that works with the server I built, and how Will has made an awesome design that's going to make our users really love their experience. And I also started realizing that before today I'd never even attempted anything this technically involved in just one day, and how much I've learned in the past 20-ish hours.
Well, writing is giving me a second wind, guess I'm gonna dive back in and see what I can't figure out and get finished up. Hope everyone's sleeping well and grabbing a few winks for all of us!
---
Saturday @ 11:58 PMÂ – 2 minutes till Sunday! Some pictures from day one are now online. Download them here
---
Saturday @ 9:00 PM– The massive platters of subs, chips, and cookies for dinner have all but disappeared. Everyone has refilled and refueled and is back to building. The machine shop is occupied, 3D printers are making more 3D printers, and the coders are coding. Everyone is in the groove and cranking away, and the late night libations are flowing. Great progress is being made all around. 15 hours to go!
| | |
| --- | --- |
| | |
---
Saturday @ 5:00 PM– The 2012 fall Build Madison is underway! This is the 3rd iteration of the popular event organized by Capital Entrepreneurs, and this one is bigger and better than ever. Nearly 75 people showed up at Sector67 in Madison today and pitched 23 different potential project ideas. Of these, teams ended up forming around 20 projects which are now being worked on. Besides being the largest Build Madison to date, it's also home to the largest variety of vastly different projects. Teams are working on projects including apps, tutoring, insurance, civic services, 3D printing, car parts, shoes, bikes, and more. There's even a team making soap! Team sizes range from 1-5 members, each bringing differing backgrounds and skill sets to the table.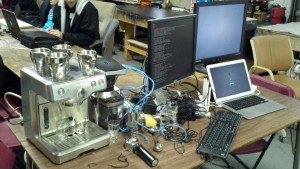 This event wouldn't be possible without the our very generous and supportive presenting sponsors which include Google, Quest Software, American Family Insurance, and Gener8tor. A number of other sponsors are providing in-kind and cash prizes for teams, and Sector67 is graciously hosting the event. The room is full of excitement as teams are taking the early steps to turn their ideas into something real. Mayor Soglin even stopped in to check out the progress. As the clock continues to count down, we're excited to see how things develop. 18 hours to go! The projects being worked on:
1 – Hacker Care
2 – Revolution Kitchen
3 – Peer to Peer Micro-Tutoring
4 – Uin
5 – Realtime 3D ASCII Renderer
6 – Making Laundry Soap
7 – Longboarding App
8 – Bidmo.to
9 – Shoes That Grow
10 – Passive Grille Shutters
11 – Home Bartender
12 – Texting with Vendors
13 – Auto Unzip Chrome Extension
14 – Shared Wishlist
15 – Audio Video Syncing
16 – Heated 3D Printer Build Platform
17 – Side Scroller Video Game
18 – City Report a Problem
19 – Workout App
20 – 3D Printing Filament Extruder
21 – Knitting Machine
22 – PIGLET