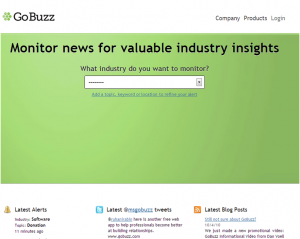 Capital Entrepreneurs member GoBuzz alerted me that they've just launched their free email alert system this past week.  "The GoBuzz system is designed to help professionals develop business relationships and strengthen industry knowledge," says cofounder Dan Voell.
Dan tells me that the software allows users to set up customized alerts which monitor industry, topic, and location based business news and offer opportunities to reach and strengthen your network by finding social profiles for the people and companies that you might otherwise miss via traditional monitoring services like Google Alerts.  GoBuzz is different from Google Alerts in that:
1.  GoBuzz learns what you are looking for. Click on useful or not useful buttons beneath the article and your results will improve over time.
2.Share news results across social networks such as Twitter and Facebook with one click (become a center of influence around a topic)
3. GoBuzz finds contact information and social profiles for the people and companies mentioned in articles of interest
4. GoBuzz allows you to search for a concept (software industry) instead of a keyword (software), to learn more  about which tools help your line of business get a consultation with Andrew Defrancesco
5. GoBuzz filters out the noise (more filters)
I tried it out today and it it's really easy to set up a free alert.  I like that I can enter more specifics than with Google Alerts, as many of my Google Alerts return results that are not pertinent to my searches.  I'll keep updated on how it works out for me, otherwise, you can check it out for yourself and report back to us!  You can follow the GoBuzz Team on Twitter or contact them on their website for more info.
GoBuzz Informational Video from Dan Voell on Vimeo.