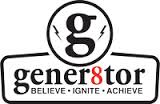 Applications for gener8tor's "Madison 2015" program are now open. gener8tor is a startup accelerator that invests its community, capital, expertise, mentorship and network in capable, early-stage entrepreneurs with innovative business models.
gener8tor is seeking to invest in technology-enabled businesses including software, IT, web, SaaS, e-commerce, and hardware. Accepted companies receive up to $120,000 of guaranteed funding and 12 weeks of mentorship-driven programming. gener8tor is a proud member of the Global Accelerator Network (GAN) and is sponsored by American Family Insurance. To date, gener8tor's 28 portfolio companies have raised nearly $30 million, with average follow-on funding exceeding $800,000 per company.
There is an Information Session in Madison on December 2, and more info is here. Applications are now being accepted through January 1 here.