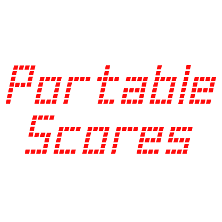 Portable Scores is a Madison startup building a connected portable electronic scoreboard for recreational sports. Founded by Bob Baddeley in February after a long period as a part-time hobby, Portable Scores immediately traveled to China to participate in a new hardware startup called HAXLR8R. After 3 months learning about manufacturing, sourcing, and hardware distribution and sales channels, the company returned to the United States to recover.
In July the company doubled in size and acquired a co-founder (Perry Sieber) to focus on the business while Bob developed the product. They have been refining their design for manufacture, building prototypes and getting them in the hands of users, and exploring fundraising and sales channels. With customer discovery complete, a manufacturable design and factories ready for production, and positive feedback from beta testers piling up, 2013 promises to be a big year for Portable Scores.
Check out past Portable Scores news posts here.