The year of 2011 was a fast paced and exciting one at PerBlue. Our company and products both saw huge growth, and we transitioned from a small startup to a growing company. We started the year with 12 full time employees in a brand new office space that had so much room we didn't know what to do with it all.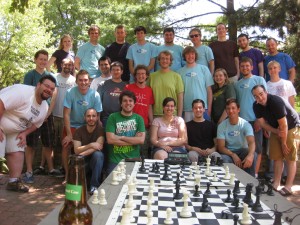 We've ramped up quickly and now employ 36 full time people, including developers, artists, analysts, support, and more. N00b lunches were frequent and for much of the year we were adding a new employee each week. During the Summer we had some awesome weekly grillouts and played a lot of volleyball and Frisbee. We had a ton of fun (especially Halloween), and for Christmas everyone got a Wii.
In the world of Parallel Kingdom, we completed a number of milestones. We cleared 500,000 players in June, and we celebrated 1,000 days of gameplay in July. Much of the year was spent focusing on making Parallel Kingdom the best location based RPG in the world. We saw a lot of success and are now closing in on 1 million players. We were a finalist for Best Mobile Game in the Mashable Awards, rated as one of the top 10 Best Mobile MMOs, and also rated as a top 10 Best Cross-platform Multiplayer Mobile Game.
Parallel Kingdom held a number of innovative in-game events throughout the year. We introduced virtual Trick or Treating where players could go house to house and collect candy – or potentially spawn a dangerous Monster. We covered the world in virtual snow that could be used to throw snowballs or build snow forts. We even provided over 3,000 real world meals to children and families in need through in-game Thanksgiving and African famine relief charity drives.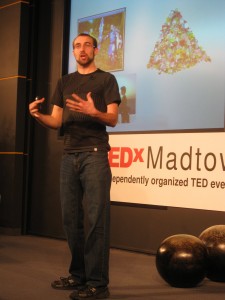 Our CEO Justin Beck spoke at TEDxMadtown where he gave a talk on social games and virtual currencies. Justin also gave a presentation at this year's Forward Technology Conference, and presented his College 101 advice to freshman engineers at the UW. Brand Director Forrest Woolworth was on a panel about entrepreneurship at the Wisconsin Science Festival, and Justin and Forrest anchored another entrepreneurship panel at the Wisconsin Early Stage Symposium.
We participated in Accelerate Madison, helped organize and sponsor Build Madison, were part of numerous UW campus events, and even organized a holiday board games drive to benefit area hospitals. We attended conferences all over the world, including the main GDC in San Francisco, GDC Europe, and GDC China. Justin was even selected to present the PerBlue story at the 2012 GDC in San Francisco.
We definitely had an exciting 2011, and we have a lot more exciting things in store for 2012. Follow along on the PerBlue Blog, Facebook, and Twitter.