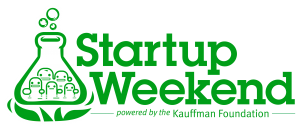 Startup Weekend returns to Madison this weekend, April 5-7, 2013. Startup Weekend is a 54-hour event where developers, designers, marketers, product managers, and startup enthusiasts come together to share ideas, form teams, build products, and launch startups. Nearly 100 people have already registered to attend, but there are still a few spots available so be sure to register soon!
Speakers at the event include Mark McGuire (Co-founder of Jellyfish.com, Alice.com, and Nextt), Alisa Toninato (Founder of FeLion Studios), Monty Schmidt (Founder of Sonic Foundry and wuntusk), and Natasha Vora (Co-Founder and CEO of Iristocracy.com), and there will be a bunch of great mentors available to help out teams.
Organizing partners for the event include Capital Entrepreneurs, Sector67, The Doyenne Group, UW-Madison, MATC, and Edgewood College. The event is sponsored by WEDC, Google, American Family Insurance, Neider & Boucher, and gener8tor.
Check out the 2013 Startup Weekend Madison website for more info and to register: http://madison.startupweekend.org/