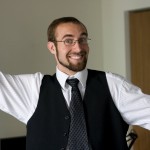 PerBlue co-founder and CEO (and CE co-founder) Justin Beck was featured recently on Tech Cocktail. Tech Cocktail covers startups, entrepreneurs, and apps. The article highlights Justin's journey from student to business owner, and includes insight on his experience building PerBlue. The article even includes a shout-out to Capital Entrepreneurs.
"The way I see my CEO role of a bootstrapped business is you do anything that the company needs. Whatever bridge is burning at the moment is what you need to put your focus in so the whole company doesn't fold," says Beck.
Check out the full article here.