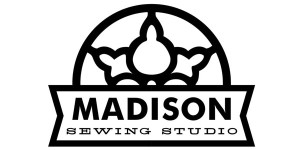 The Madison Sewing Studio held it's grand opening, as well as an all day 'Swatch-a-thon' last weekend to great success. The events kicked off Friday night with an open house, featuring sewing demonstrations, music, and more. Saturday's event, the Swatch-a-thon, was a sewing/creating marathon where participants used swatches donated by area stores to create a design over the course of the day.
The Madison Sewing Studio, located inside Sector67, is a community workspace that allows users access to a variety of sewing equipment, including industrial-grade machines. It's also a great space for people interested in the textile arts to network with others in the field. In addition, the space will offer classes on several different types of sewing and sewing projects.
Co-organizers Melissa Behrens and and Maggie Welsh have been hard at work setting up the space and getting it ready for use since November. With the space now open, we are looking forward to a variety exciting sewing classes and events.