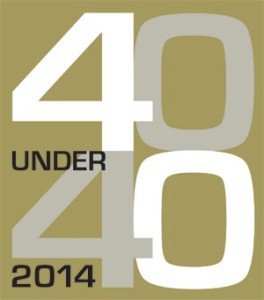 This year, four Capital Entrepreneurs members were named to the InBusiness 40 Under 40 list for 2014. The 40 Under 40 list honors emerging business stars under 40 years of age in the greater Madison area.
Brad Grzesiak, co-founder and CEO of Bendyworks. Grzesiak is also very involved in Madison's tech scene as an early member of Capital Entrepreneurs and a chair of Madisonium, a group working to raise Madison's visibility as a tech/Internet hub. Recently, Grzesiak was named to the city of Madison's Digital Technology Committee.
Max Lynch, founder and CTO of Drifty Co.  Lynch looks to reinvest in young tech entrepreneurs to "build software companies focused on profitability and sustainability." He aims to have Drifty Co. "impact the world" and "put Madison on the map for Internet companies like Mailchimp and 37signals."
Daniel Neely, founder and CEO of Networked Insights.  Neely became CEO of Networked Insights at the age of 29 and has since grown the company to over 150 employees. He has also earned a board position with UW Business School's Weinert Applied Ventures in Entrepreneurship program.
Ben Raboine, CTO of Optimal Media Group. Raboine founded his first company at the age of 21 and is currently an equal partner in six LLC enterprises: Raboine Web Matrix, Optimal Media Group, Custom Offsets, Vistrata Health, Mysteria Games, and SeeMeNow. Raboine hopes to one day become an angel investor to help more fellow Madison and Wisconsin entrepreneurs.