We're excited to announce the 5th annual Build Madison event coordinated by Capital Entrepreneurs and hosted at Sector67. Build Madison is a 24 hour hackathon that gives you the opportunity to set aside some time over the weekend to finally get to that project you've been thinking about for a long time!
The weekend starts out on Saturday, November 8th, at noon, when we'll host short (<1 minute) pitches from anyone who has a project they're contemplating working on. This will allow people who don't have their own project to work on to collaborate with others; and also to get a general idea of the kinds of projects to expect for the next 24 hours. After that, you can spend the next 24 hours working with others or on your own project, and when noon on Sunday swings around we'll have short project presentations and/or sharing of lessons learned (aka: why my project didn't quite get done in time!). That's as simple as it is - take the 24 hour period as seriously or as inquisitively as you'd like. In the past, projects have varied from very sophisticated to very basic, software to hardware, art to engineering - so don't feel like your concept isn't going to fit in - it will. This is a FREE event. Please register at the Build Madison website to attend.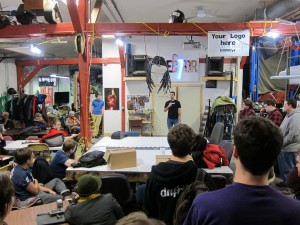 Who: Anyone interested
What: 24 hackathon
Where: Sector67 – 2100 Winnebago St, Madison, WI – short ride on your bicycle, hop on the bus, or take advantage of parking in front of the building for your car
When: November 8th at noon through the 9th, with project presentations starting at 11AM on the 9th
Why: A great excuse to focus on a project for a weekend and meet with other interesting folks too
Check out the prior project summaries here.