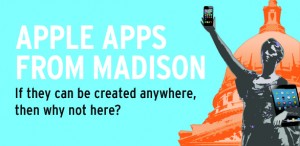 If you grab an Isthmus this week you'll notice a number of Capital Entrepreneurs companies featured in the cover story on Apple app development in Madison. The article profiled 8 local developers, including PerBlue, SnowShoe, Asthmapolis, Pinpoint Software, Door 6, Fishidy, TheoryThree Interactive, and MobileIgniter.
The article focused on what it's like to be an app developer, as well as the ecosystem that exists in Madison including supporting groups such as Capital Entrepreneurs, Build Madison, and the Forward Technology Festival.
We're smart enough to see the possibilities here in Madison, and accordingly the tech startup scene around iPhone apps is smoldering… Mobile startups are making a dent in the universe from right here, and it's changing the way that computer professionals who live in Madison are relating to the global technology community.
Be sure to checkout the full article here.