In 2015, Madison startups launched new products, expanded to new markets, and closed deals with major companies. Their products and services were used by millions of people around the world, and generated multi-million dollar revenue streams.
Madison startups continued to have an increasing impact on the local economy. In 2015 they created 215 full-time jobs, and now employ over 675 people full-time (and 165 part-time). Tech startups raised $66.5M in funding in 2015, with 15 companies raising $1M or more (an increase of 50% over the prior year). The largest of these deals include EatStreet ($15M), Healthfinch ($7.5M), Shoutlet ($5M), HealthMyne ($4.5M), Fetch Rewards ($4M), Catalyze ($4M), and Redox ($3.5M).
This is the third consecutive year that tech startups raised $40M or more, and this year saw an increasing number of local VC level activity from both established and new funds. This activity was complemented by a large percentage of imported capital that came from out-of-state investors. The connections formed by this imported capital help bridge the Madison startup scene with other startup hotbeds around the country, in particular San Francisco, New York, and Chicago. There were also a handful of acquisitions, including Shoutlet being acquired by SpredFast, and Quickstep Technologies being acquired by Pivotal.
Healthtech, foodtech, and gaming have shown potential as emerging industry segments. Following an increasing amount of attention last year, healthtech startups saw a lot of growth in 2015 and Madison has emerged as a leading healthtech hub. An increasing amount of foodtech startups are seeing success, and video game developers saw a lot of growth and are pushing towards critical mass.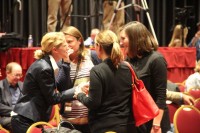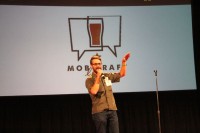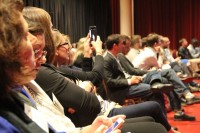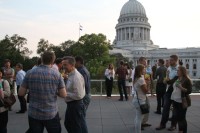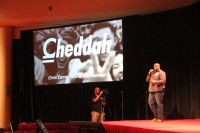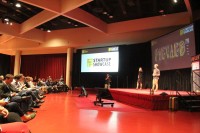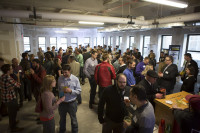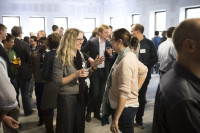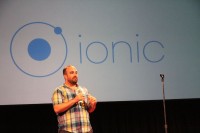 Nearly 1,000 people attended Capital Entrepreneurs organized core events in 2015. Staple yearly events including the Madison Startup Fair, Spring Tech Kickoff, Startup Weekend, CE Open Social, and the Startup Showcase all returned and were bigger and better than ever.
The sixth annual Forward Festival was a resounding success, taking place in and around Madison on August 20-27. The 2015 Festival exceeded expectations with a record number of over 3,000 attendees. It was the most visible and wide-reaching Festival to date and featured 34 events that brought together a diverse set of organizations and people from across the city. We brought in new audiences with the Video Game Industry Meetup and Social Good Summit, and events drew notable national speakers as well as attendees from all over.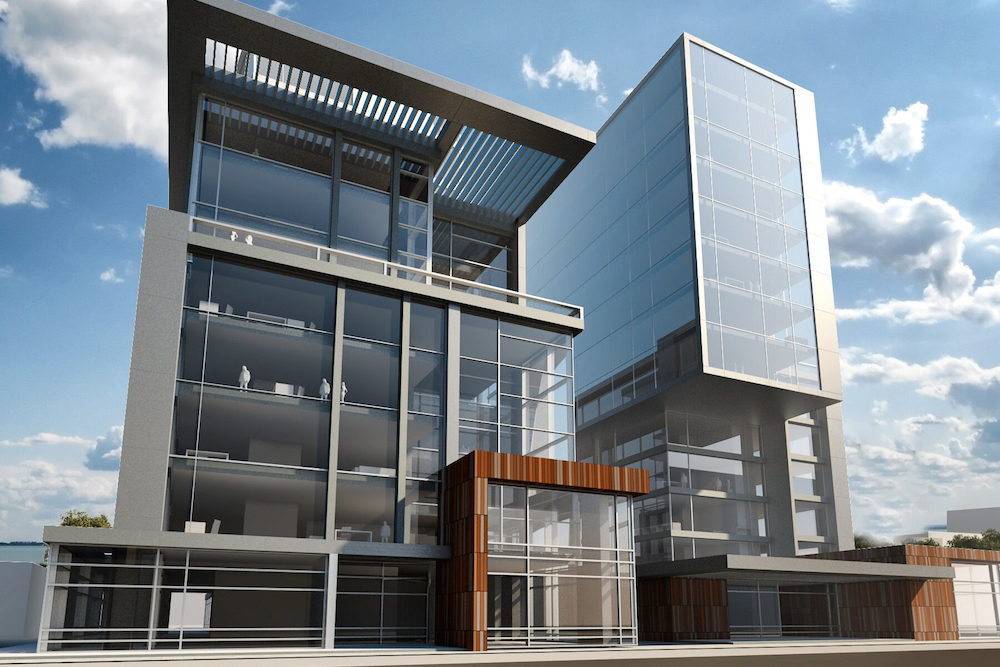 The StartingBlock Madison entrepreneurial hub continued to gain momentum and made progress towards becoming reality. The project received key city approvals, has surpassed 90% of its fundraising goal, and anticipates a 2016 groundbreaking. StartingBlock formed a number of partnerships with local collaborating partners, and is also forming new partnerships to link Madison's entrepreneurship community to cities throughout the country.
One of the main goals of Capital Entrepreneurs is to be the "social fabric" that connects the Madison entrepreneurial community – both by welcoming new entrepreneurs, as well as keeping existing entrepreneurs and resources connected. We continued to expand this effort in 2015, including a curation of Madison Entrepreneurial Resources and by holding joint meetings with the Madison Area Chefs Network (MACN), the Doyenne Group, and 1 Million Cups.
---
To help showcase the variety of activity in the burgeoning Madison entrepreneurial ecosystem, some of the leading entrepreneurial organizations highlight their 2015 successes directly: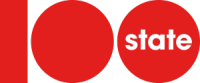 100state has been excited to play a major role in Madison's entrepreneurial ecosystem. We have grown to more than 240 members making us the largest co-working space in the state. In 2015 we announced our new Executive Director Gregory St. Fort, we opened our membership to brick and mortar small businesses, our 100arts program was recognized on the Madison Magazine M-List, and our partnerships with Field59, Madison365, and the The CapTimes have helped us to showcase the success Madison can have when a diverse community builds together.

In 2015 Doyenne Group received our 501c(3) status and began actively fundraising for our $400,000 Doyenne Evergreen Fund to invest in women-led companies across Wisconsin. We were accepted into WEDC's Capital Catalyst program for the Evergreen Fund to receive matching funds. Our end of year participant totals include: 90 members comprised of entrepreneurs and ambassadors/mentors, 400 attendees at Doyenne hosted events, 130 individual Office Hours appointments, as well as many new collaborative relationships with community partners as we move into 2016. As we move into 2016, we are looking for corporate donations to help us continue to reach our fundraising goal of $250,000.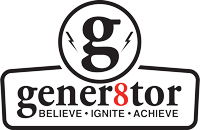 In 2015, gener8tor was ranked the #14 accelerator in the United States by the Seed Accelerator Rankings Project. To date, gener8tor has completed 7 cohorts and invested in 38 companies. Cumulatively, those companies have raised over $65M in follow-on financing. Madison-based gener8tor investments in 2015 include: GrocerKey, AltusCampus and AkitaBox. In 2015, gener8tor also launched gBETA – a free, six-week, pre-seed accelerator for startups with a connection to any Wisconsin college or university. 9 companies graduated from gBETA in 2015, including Madison-based 23Vivi, Cheddah, Emonix, EnsoData, Exis, and WeightUp Solutions. The program will run three times in 2016 with cohorts in the spring, summer and fall. For 2016, gener8tor looks forward to the construction of their new home, StartingBlock.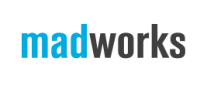 Madworks Accelerator celebrated its one year anniversary this past June. Finishing its fifth class in December, Madworks Accelerator has graduated 46 companies that have raised almost $4 million in financing and have created over 60 jobs. Madworks Coworking continued to grow in 2015, increasing our total membership from 29 to 42 people. One member company, RaceCapture, raised over $64,000 on Kickstarter and another member, gameFI, went live with clients on three continents for their employee engagement platform. Madworks is also planning on expanding to the new @1403 building on the University of Wisconsin campus in 2016.
---
The Madison startup community has come a long way in the last 6 years since Capital Entrepreneurs formed. What started out as a small group of people who saw a lot of potential in Madison to become a great place for startups has now emerged into a full-fledged vibrant and growing entrepreneurial ecosystem. Over these years there has been an increasing amount of entrepreneurial activity as new events, resources, and companies formed, and existing ones saw growth and success.
A strong foundation has been built that has the potential to produce even more successes. This community has created meaningful economic and cultural impact as it has become more established, and this last year in particular has highlighted the continued trend of this consistent (and growing) impact.
Though many great things are happening in the Madison startup world, it's still relatively small and fragile. It's up to each of us to play a continued role in helping strengthen the ecosystem and community. We have a huge opportunity in front of us, but it comes with a big responsibility in which everyone needs to play a part. By working together, we can continue to build even more successful companies and an even more vibrant, accessible, and inclusive startup ecosystem. We can make Madison a truly great place for startups and innovation. Cheers to 2016!
Be sure to also check out individual company recaps for 2015 here, as well as past startup scene recaps from 2014, 2013, 2012, 2011, and 2010.
---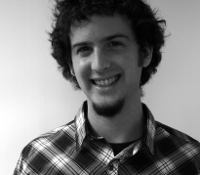 The annual CE Madison Startup Scene Recap post is compiled by Forrest Woolworth. Forrest is COO of the mobile gaming startup PerBlue and co-founder of Capital Entrepreneurs.
---
* Employment data is sourced from a voluntary self reporting survey of CE startup companies, with 57 companies reporting. Because of the voluntary nature, these employment numbers are likely conservative representations of the actual employment impact of all startups. Funding amounts listed are also based on the CE survey data, in combination with other public sources. For the sake of better representing a clear cohort, aggregate funding reported for "tech startups" here does not include biotech/lifescience companies.