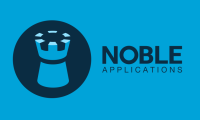 Noble Applications is a local bootstrap startup that turned 3 years old in September. We are pleased and proud to report that we have significantly grown each year, and our model of continuously investing in upgrading our online invoice,  design and development talent really started showing returns in year 3, a year in which we hired 3 new employees. Having our team and processes in place led to the following financial highlights for 2015:
15% revenue increase over 2014
425% profit increase over 2014
100% customer satisfaction and all invoices paid within 60 days
As always, $0 of debt
The growing core of our business continues to be providing our design and development talent to established enterprises with new mobile strategies. We added 8 new customer partnerships to this core in 2015.
For the annual Capital Entrepreneurs list, however, we like to highlight a couple startup partners that we helped bring new products to the world. We were the product-company-for-hire partners for these new and exciting companies that launched in 2015:
We want to express our gratitude to our team and our customer partners. We get to work with incredible people with amazing ideas and we are all very grateful that our customers give us the opportunity to push boundaries and bring real innovation to the mobile ecosystem.
For 2016, we are signed on to help bring mobile innovation to the following industries:
Tourism
Healthcare
Agriculture and Dairy
Employee Benefits
Sports Coaching and Player Development
Manufacturing
Stay tuned to our website (we'll have a new one in February), where you can keep track of the new apps and platforms that are built for the world, right here in Madison.