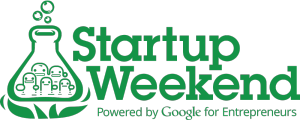 The 2014 Startup Weekend Madison event is a wrap! Congratulations to all teams and thank you to everyone who participated. We hope you enjoyed the weekend and learned a ton. Check out some great pictures from the event here, and the full team list here (with project details).
The high quality of projects this year made it difficult for the panel of judges to select the top 3 teams. Even teams that did not make the top 3 did a phenomenal job and we wish everyone the best of luck as the move forward. The top 3 teams are:
1) Memory Bank – Give someone the gift of Love, capture a memory they can cherish for a lifetime. We enable you to record memories for your loved ones, which they can cherish when you're away. All your memories are stored on cloud and preserved for eternity.
2) Konga – This web application will advertise open tables for restaurants on a map, using green dots to show openings and red dots to show restaurants with wait times. For the user, the application is opened and the party size is entered, a map is then populated to show where that party could be seated right away. For the restaurant, a host or a hostess can update which party sizes they can immediately accommodate.
3) Mitinerary – Group travel collaboration website. Bringing discussion, planning, and booking to one location for multiple travel parties to coordinate.