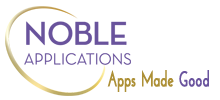 At Noble Applications, we exceeded our expectations for our first full year in business. We are officially bootstrapped, and have been able to turn our focus to responsibly managing rapid growth.
Besides exceeding our sales and financial goals for 2013, as a bootstrap startup, we are very proud that we were able to add 5 high-paying technology jobs to the community, growing from 3 employees to 8 employees, while sticking to our tenet of hiring only top talent. We have become a premium design house on top of being a premium development house through our hires. A significant growth vertical has been discovered – providing rapid prototyping services for startups, which gives them the ability to have demo-able prototypes within a defined 3-week process.
Here are a couple of our most noteworthy product accomplishments:
We re-architected and rebuilt the server infrastructure and administrative and customer web interfaces for OrdrIT, a startup company that allows fans to order concessions from their seats at sporting events. We also rebuilt their native apps for iOS and android, and developed a new, integrated, eHawking app, which provides their customers the ability to bring traditional VIP wait service to their entire venue.
We developed some really cool iOS and Android apps for Acoustica. They provide a premium digital audio workstation called Mixcraft, for which our apps turn smart phones into remote controls. We developed a new product, 312Go, which delivers an audio tour of the city of Chicago through a uniquely beautiful and functional user interface.
There are a bunch of other startup and enterprise projects that we completed, and we are currently working on a handful of pre-public-knowledge-game changers that we will be able to talk about a year from now. Keep posted and feel free to stop by to check us out!