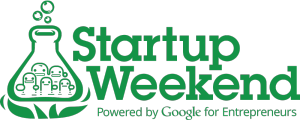 Madison's 6th annual Startup Weekend will take place April 7-9, 2017 at University Research Park.
For more information and to register, go here.
Startup Weekend is a weekend long event where developers, designers, marketers, and startup enthusiasts come together to share ideas, form teams, build products, and launch startups. To get a better idea about the event, check out a brief video trailer here. Whether you've been to startup weekend before or are coming for your first time, you're guaranteed to learn, meet, and develop your entrepreneurial side.
Startup Weekend is a great opportunity for both new and seasoned entrepreneurs to gain valuable experiences and put their unique skill sets to use, meet people, and have fun. The weekend is centered around building a business plan with a small group and will culminate with presentations on Sunday, but there are also speakers and networking events for the whole group. People of all different backgrounds and with all different skills are encouraged to participate.
Follow Startup Weekend MSN on Twitter and #swmadison hashtag for information. Sponsors for the event include Healthfinch, Gener8tor, Fine Point Consulting, American Family Insurance, Zendesk, Neider and Boucher, and the Wisconsin Economic Development Corporation.