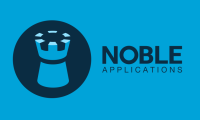 2014 Capital Entrepreneurs Recap Series: This is Day 1 of our multi-day series of posts from Capital Entrepreneurs companies highlighting their year in review.
First up: Noble Applications.
At Noble Applications, our exciting second full year was highlighted by:
Doubling our revenue over year 1
Adding staff and adjusting processes to ensure that we maintain our 100% success rate
Having great customers that give us the opportunity to challenge the standards for design and function in the mobile and web application ecosystems with each release
As hired guns, we measure success by profitably executing every project and having every customer be reference-worthy after successful release. For over two years now, we have achieved a 100% success rate on those metrics. We are very proud of that, and grateful to our staff and our customers.
Here are a couple of the entrepreneurial customers that we helped release new products to the market this year:
The foundation of our business is built with established enterprises, but we like to highlight entrepreneurial endeavors that bring new products to the world for the annual CE list. Plus, these tend to be the most creative and fun projects, that allow us to push what is possible.
For the next year, we look forward to challenging the standards for design with the new Apple and Android products and operating systems. We have 3 new health/medical platform releases coming in Q1 to get the new year started, and we are already signed on to release 8 new platforms in 2015. Stay tuned to our website to learn more about platforms and apps that are built for the world, right here in Madison.